"For me journalism is about understanding how things are interconnected, beyond the images and the news reporting. I often dig deep into a theme: Radicalization. Human trafficking. Sexual exploitation. Parallel societies within society, most often depicted by the faiths of young people.
My work has taken me to locations in Europe, West Africa, North Africa, the Middle East. I'­ve met people in difficult and vulnerable situations—in refugee camps, prisons and brothels, on rescue ships, at sickbeds and gravesites. Sometimes the person I've interviewed has been a victim, sometimes a perpetrator. Sometimes both. These types of complex stories are always accompanied by doubt: Am I on the right track? Could it be this way?
I follow people for long periods, and I feel deep respect for the ones who will talk.
The 15-year-old who sewed his lips shut after he'd reported sexual abuse and still got no protection. The 14-year-old who was blackmailed over nude photographs and was forced to go to a warehouse outside Malmö, where she was blindfolded and raped by a 50-year-old man. The 12-year-old who was given candy, roses and teddy bears by the man who anally raped her in a hotel room. The 16-year-old who was exploited as a drug mule when he dared return to his homeland. The 17-year-old who was forced to come to Sweden to bury his older sister, who had been drowned in a bathtub by her violent husband despite her numerous appeals to the community for help and protection."
Three Swedish girls. Taken away by their own families. Who will help them get home?
Nadia's little brother writes on Snapchat that he will find and kill her. Amina is advised to put a spoon in her underpants to trigger the airport metal detector if her family tries to take her abroad. But when she least suspects it, she is taken to one of the world's most dangerous countries.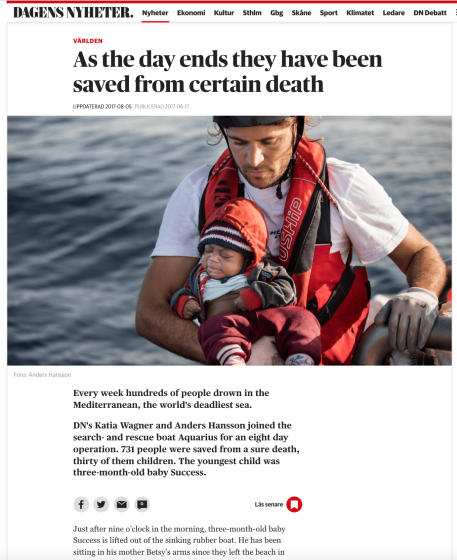 My colleague Anders Hansson and I reported from a rescue operation on the Mediterranean for Dagens Nyheter. Read here.
The rapes and beatings continued for months. Rahman was threatened to death if he tried to run away. He had seen guns and knives around the flat and did not dare argue or ask questions. "I had nowhere to go. No money. And there was no one to help me," he says.
Rahman is among thousands of children who have come to Sweden in recent years only to go missing when their European dreams are shattered. The threat of deportation is often mentioned as a reason for these disappearances.